The CIBN Bookshop (A subsidiary of The Chartered Institute of Bankers of Nigeria) was set up as a business enterprise with the responsibility of marketing and sales of CIBN Publications, Souvenirs, examination recommended text books, academic, professional, children books, general interest books and stationery items.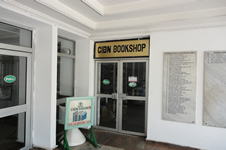 The Bookshop also stocks books on sale or return basis for fast moving books from Publishers, Authors and Suppliers.
Objectives
The overall objective of the bookshop is to make books and stationery items available to both internal and external customers through marketing and sales of merchandise at a profit.
Location

The CIBN Bookshop is located on the ground floor of the National Secretariat at:

Plot 19, Adeola Hopewell Street,
Victoria Island, Lagos

Phone: 01-4617924
Telefax: 01- 4618930



Branches

ABUJA BRANCH
c/o NEXIM Building
Plot 975, Cadastral Zone AO
Opposite COJA,
Central Business District
Garki, Abuja

Contact: Mrs. Martha Aibe
Tel: 08025530890
Eastern Zonal Office
The Chartered Institute of Bankers of Nigeria (CIBN)Union Bank of Nigeria Plc Building
Plot 23, Port Harcourt Road, Owerri Imo State

Contact: Mrs Maria Nwagboso-Kalu
Tel: 08023903646
CIBN BOOKSHOP PRICE LIST

End of Days
N2,000.00


How To Get Rich
N2,500.00


The Art of War H/C
N1,800.00


Walk The Walk
N1,500.00


---


Resonant Leadership
N1,800.00


I've been Rich. I've been poor. Rich is Better
N1,100.00


Cyber Marketing
N600.00


Sink or Swim
N950.00


---


Banking within the Law
N2,000.00


Examiner's Report April 2009 Certificate
N500.00


Inferno
N4,200.00


The 17 Indisputable Laws of Teamwork
N1,400.00


---


The New Renaissance
N6,000.00


Getting Organized
N1,150.00


Secrets of Self Employment
N1,500.00


The Nigerian legal method
N6,500.00


---


Six Sigma For Small Business
N1,800.00


Examiners Report April 2013 Professional
N700.00


Brace Up & Run the Race to Save Your Life, Don't Stop
N550.00


The Power of Your Words
N2,000.00


---